Self Leveling Cement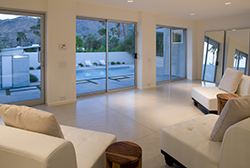 Self levelers are great for creating a new canvass for a concrete substrate floor. Levelers have many attributes and advantages; fast-drying, applied quickly, can be mixed in a barrel and placed by hand or it can be pumped into placed. Levelers are specifically formulated for fast-track resurfacing of flat surfaces for residential, warehouses, corridors in malls, entrances, show rooms, restaurants and lobby floors.
Self levelers come in three colors: grey, medium grey and white. They also can be integrally colored. Levelers can be polished, sawcut, stained and sealed. These floors withstand forklift traffic for heavy duty applications and provide the ultimate balance for design and function.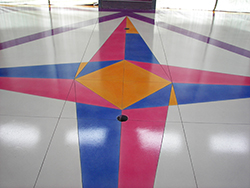 Creativity
There is an unlimited range of effects that can be created using the integral colorings. By adding glass, synthetic and natural aggregates, metals, crushed stone, granite and marble into the material and with the brilliance of architectural stains that are available in combination with the integral coloring agents, these floors can be polished to look like terrazzo flooring.
It is becoming popular to polish these toppings and create a truly unique light reflective floor that's used in high end residential and commercial applications where terrazzo would be too expensive. It also achieves good compressive values in short periods of time i.e. just over night after being placed they reach 6,000 PSI.
There are some limitations. Self levelers could be difficult to install in certain circumstances. It is limited for interior use only because they are self leveling. Normally in an exterior application, the topping or mortar needs to be sloped properly for drainage so specifically these self leveling topping overlays are meant for interior applications.
Photo Gallery