Terrazzo – Orr Residence
Location: Palm Springs, CA
Systems: Cement Terrazzo
Area: 1800/sf.
Year: 2013
DETAILS
Removed all tile and replaced with ½" cement terrazzo to give the house a mid century architectural feel. Set zinc strips for a nice custom finish. Terrazzo was polished to a high gloss finish. Project took approximately two weeks.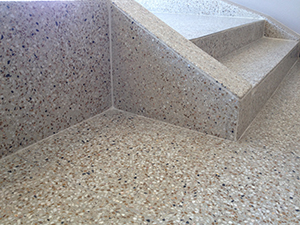 INFORMATION
ACI installs terrazzo in new construction and restoration projects because of the many benefits it offers. Among these are strength, durability, long life span, affordability, it is environmentally friendly and recyclable. The process utilizes an innovative aggregate placement with epoxy and cement, finished with a grinding and polishing system that brings out the natural beauty in this finish that is called terrazzo.
Click here to learn more.
PROJECT PHOTO GALLERY