Concrete polished overlay – Palm Springs
Location:Palm springs CA
Systems: Pour ½' of self leveling polished
Area: 1,500 Square Feet
Year: 20
DETAILS
Grind floors and install epoxy primer. Pour ½" of tinted self-leveling cement. Grind smooth and color with saddle brown dye. Polish floors to a high gloss finish.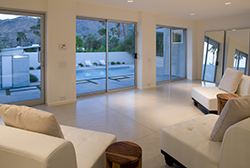 INFORMATION
Self levelers are great for creating a new canvass for a concrete substrate floor. Levelers have many attributes and advantages; fast-drying, applied quickly, can be mixed in a barrel and placed by hand or it can be pumped into placed. Levelers are specifically formulated for fast-track resurfacing of flat surfaces for residential, warehouses, corridors in malls, entrances, show rooms, restaurants and lobby floors.
Click here to learn more.
PROJECT PHOTO GALLERY