Lowes
Location: Perris, CA
Systems: Cement Terrazzo
Area: Main Entrance to Facility 500/sf.
Year: 2012
DETAILS
Remove existing tiles, grind concrete and install epoxy vapor barrier. Install Schluter strips over existing control joints. Pour custom matched aggregate to match Lowes color scheme. Grind and polish to a high gloss finish.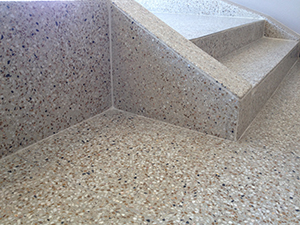 INFORMATION
ACI installs terrazzo in new construction and restoration projects because of the many benefits it offers. Among these are strength, durability, long life span, affordability, it is environmentally friendly and recyclable. The process utilizes an innovative aggregate placement with epoxy and cement, finished with a grinding and polishing system that brings out the natural beauty in this finish that is called terrazzo.
Click here to learn more.
PROJECT PHOTO GALLERY